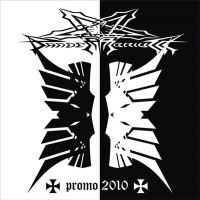 BAND: Pandemonium
ALBUM: Promo 2010.
GENRE: Black metal
LABEL: Godz of War Production
GODINA: 2010.
WEBSITE:
www.myspace.com/pandemonium_pl
AUTOR: Underspell
OCJENA: čekamo album
TRACKLIST:
01. Black Forest
02. God Delusion
Kad se dobije novi CD (a pogotovo kasno kao ovaj ipak je već 2011.) red je i napisati nešto o njemu, međutim kad se dobije promo sa dvije stvari onda da bi se napisalo nešto (dobro) te dvije stvari moraju biti dobre dovoljno da bi zaslužile da se o njima priča i s razlogom očekuje cijeli album. Koliko ste puta pogledavši trailer odjurili u kino misleći da je film prejeben a onda ostali zabezeknuti koliko ste prevareni i koliko je film sranje. E pa tako sam i ja ušao u recenziju ovog albu…tj. promo CD-a poljske grupe Pandemonium.
Pandemonium po napisima sudeći postoji još od davne 1989. godine ali čisto sumnjam da ste ikad čuli za ovaj po meni neloš bend. Neloš iz nekoliko razloga u koje me je uvjerio ovaj CD. Iako bih radije cijeli album pa da prosudim na temelju cjelokupnog dojma za sada ću se zadovoljiti sa te dvije stvari koje se nalaze na njemu. CD otvara pjesma "Black Forest" koja kao što joj i ime govori vas odvodi u najtamnije zakutke neke poljske vukojebine. Atmosfera je pogođena totalno ali zvuk…hm još je prekakofoničan za moj ukus ali valjda će se i to ispraviti na konačnom proizvodu. I završni dojam o tome što ovi momci rade daje jednako mračna i još blackerski više orijentirana pjesma "God Delusion" koja iako ne nudi ništa novoga sasvim suvereno dokazuje da je Pandemonium zreo za ligu pravih black metal bendova.
Još jedan plus u cijeloj ovoj priči ide i na to što ovaj CD ima i nekoliko live snimki tako da se možete i uvjeriti u njihov live preformans ali ne očekujte neku preveliku kvalitetu, ipak je to CD.
Cd je ovo koji će vam samo nakratko raspirivati maštu dok konačno ne izađe njihov dugoočekivani "Misantropy". A na kraju se nadam da ipak neće biti poput filmova čiji su nas traileri zajebali već da će to biti dobro ostvarenje, barem za prekaljene blackere.
BY: Underspell