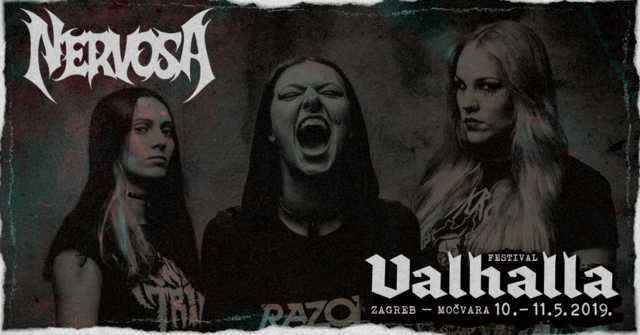 Ekscentrični Po' Metra Crijeva i slovenski Dickless Tracy zaključuju lineup Valhalla festivala!
Po' Metra Crijeva (ča metal, Rijeka)
https://www.facebook.com/PoMetraCrijeva
https://youtu.be/4O2UT-6KMGM
Po' Metra Crijeva su prvi i jedini Ča-Metal™ bend. Inspiraciju crpe iz istarskih legendi, mitova i priča, a glazbu rade pod utjecajem istarske ljestvice i death metala. Zvukom benda, uz žestoke gitare i bubnjeve, dominiraju i sopile – tradicionalni hrvatski primorski drveni puhački instrument čije je sviranje "na tanko i debelo" dio zaštićene UNESCO-ve svjetske kulturne nematerijalne baštine. Osnovani 2003. godine, do sada su izdali 3 albuma u vlastitom izdanju, a njihov posljednji album pod nazivom Ča Metal (2018.) od publike i kritike primljen je s velikim interesom. Prvi put stižu na Valhalla festival!
Dickless Tracy (death metal/grindcore, Slovenija)
https://www.facebook.com/dicklesstracygrind
https://youtu.be/XJ23KRbxSkI
Slovenska death metal abominacija Dickless Tracy osnovana je 1997. godine kao grindcore bend koji je ubrzo postao jedan od najznačajnijih metal bendova u Sloveniji i šire. Do sada su svirali na mnogim metal festivalima te su dijelili pozornicu s legendama kao što su Incantation, Funerus, Impaled Nazarene, Suffocation, Sinister, Benediction, Napalm Death, Holy Moses, Exhumed, Cephalic Carnage te mnogim drugima. Pozivaju vas na svoje premijerno ukazanje na Valhalla festivalu!
Infest (death/thrash metal, Srbija)
https://www.facebook.com/infest.serbia/
https://youtu.be/-zEs774_cXw
Infest je death/thrash metal osnovan 2002. godine, a članovi benda dolaze iz Beograda i Jagodine. Od samih početaka bend donosi deathrash metal zvuk i do sada je objavio 5 studijskih, 2 demo i 1 EP izdanje. U 17 godina postojanja, Infest je jedan od najaktivnijih metal bendova u regiji te je do sada nastupao diljem Europe, samostalno te kao support bendovima Sodom, Sinister, Kataklysm, Keep Of Kalessin, Rotting Christ te mnogim drugima. Ne propustite Infest premijerno u Zagrebu, naravno, na Valhalla festivalu!
Keops (hard rock/heavy metal, Rijeka)
https://www.facebook.com/keopsrijeka/
https://youtu.be/B_lniqKJvRI
Keops je osnovan u Rijeci te slovi za predstavnika hard&heavy stila. Iza sebe ima dva studijska albuma te mnoge koncerte diljem Hrvatske. Nakon drugog albuma bend mijenja članove te radi zaokret u karijeri, okreće se novom, čvršćem zvuku kojeg možemo čuti na zadnjem singlu Keops. Novim albumom, na kojem trenutno rade, planiraju se predstaviti vanjskom tržištu i pokušati ostvariti internacionalnu karijeru. Mnoge pjesme s novog albuma bit će izvedene i na Valhalla festivalu!
Flesh (heavy metal, Zagreb)
https://www.facebook.com/fleshmetal
https://youtu.be/SonfxSZK9ww
Uska koža, teški metal, krvavi riffovi, bestijalno zavijanje, sve to sinonim je za ovaj heavy metal trio iz Hrvatske koji će vas natjerati da poludite! Od 2004. godine zagrebački Flesh brani metalnu vjeru. Nastupali su na kultnom festivalu Metaldays, imali su priliku nastupiti kao support bend power metalcima Powerwolf, a nisu zaobišli ni Dark O Metal Fest u Rijeci. Prošlu godinu zaključili su fenomenalnim nastupom s kultnim bendom Armored Saint u Močvari. Novinari o njima pišu da su dokaz kako heavy metal i dalje živi na našim prostorima, a kako to izgleda uživo pogledajte i poslušajte na Valhalla festivalu!
Sedativ (thrash metal, Međimurje)
https://www.facebook.com/pg/SedativThrashMetal
https://youtu.be/5_x9XF-RWD8
Četveročlani thrash metal bend Sedativ osnovan je u Međimurju 2012. godine, a do sada je izdao EP i tri singla te je za posljednji singl Ljigavci snimio i svoj prvi video spot. Sve autorske pjesme napisane su na hrvatskom jeziku, a na repertoaru se mogu naći i neke obrade pjesama bendova kao što su Megadeth, Overkill i Slayer. Nakon odličnog nastupa na prvom Valhalla festivalu 2015. godine sada se vraćaju na isti!
Sufosia (thrash metal, Zagreb)
https://www.facebook.com/sufosia
https://youtu.be/aXATo-ysqM8
Bend Sufosia osnovan je 2006. godine u Zagrebu. Album prvijenac Inspiration Breakdown izdali su 2011. godine, dok im posljednji album pod nazivom Blazing Energy izlazi 2018. godine. Nastupili su na mnogim metal festivalima u Hrvatskoj i okolnim zemljama te imali prilike gostovati u nekoliko televizijskih i radijskih emisija. Članovi benda ostvarili su suradnje s mnogim velikanima metal svijeta kao što su Nick Menza, Chris Poland, James LoMenzo, David Ellefson i mnogi drugi. Sufosia trenutno dovršava svoj treći studijski album pod nazivom Connection Failed te vas poziva na Valhalla festival 2019. u klub Močvara!
Stranger (death metal/grindcore, Zagreb)
https://www.facebook.com/StrangerBandZagreb
https://youtu.be/KzqHHIQNArQ
U želji da sviraju kratku i nezahtjevnu glazbu pod parolom "Ne znamo, a to ćemo lako!", od 2012. prošle su godine bolnog promišljanja i slaganja svakog rifa, brejka i blasta do konačno objavljenog albuma Self-imposed Exil u veljači 2019. U međuvremenu je to zazvučalo kao dobri stari death metal odsviran u kratkom vremenskom razdoblju s pokojim grindcore rifom. Sve to će prikazati na Valhalla festivalu na koji vas i pozivaju!
Nervosa (thrash metal, Brazil)
http://www.facebook.com/femalethrash
https://youtu.be/BH7oNQ2SYs8
Brazilski all-female thrash metal bend Nervosa sinonim je za istinsku agresiju i moć, koji postaju besmrtni na sva 3 do sada objavljena albuma. Njihov treći album Downfall of Mankind producirao je Martin Furia koji je do sada radio s bendovima kao što su Destruction, Flotsam & Jetsam i Evil Invaders. Od osnutka 2010. bend je obišao planetu nekoliko puta te premijerno stiže u Zagreb, na peto izdanje Valhalla festivala!
Rezet (thrash metal, Njemačka)
https://www.facebook.com/rezetband
https://youtu.be/rUXCcQw10Ak
Njemački thrash metalci Rezet nastali su 2004. godine te su do sada objavili 4 studijska albuma. Zvuk koji donose je neobuzdan, visoko energičan i brutalni thrash metal. Rezet su nedavno završili album Deal With It! kojega će objaviti ove godine te ga dolaze predstaviti na Valhalla festival!
Valhalla festival održat će se 10. i 11. svibnja 2019. godine u zagrebačkom klubu Močvara. Na festivalu će nastupiti Nervosa, Rezet, Infest, Flesh, Sufosia, Po' Metra Crijeva, Dickless Tracy, Keops, Stranger i Sedativ. Festivalske ulaznice po cijeni od 100kn su u prodaji u Dirty Old Shopu (Tratinska 18, Zagreb)!